Description
 A cozy cottage house-shaped pet bed provides a comfy and private space for your dog or cat. The soft Sherpa lining provides a warm and comfortable space for your pet.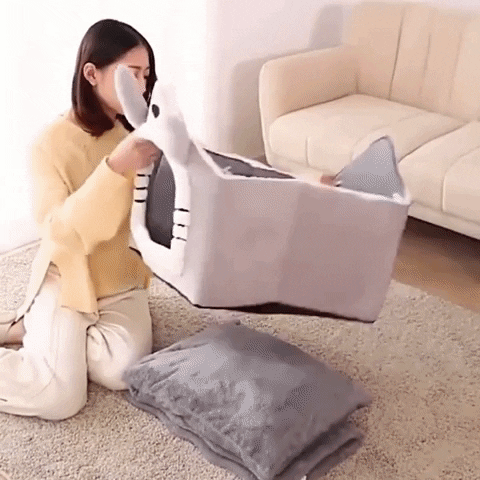 The outside of the house as well as the bottom of the removable Sherpa pad are covered in water-resistant, easy to clean, canvas. This house is the perfect hideaway and resting spot for both cats or dogs.
Let your pet sleep more soundly than ever before! With our variety of available bedding options, you can provide maximum comfort and support to your furry friends of all shapes and sizes.

Features -
Easy to clean: the pet House is safe to machine wash and dry, keeping it free of pet hair and odors. Follow the machine-wash instructions for best results machine wash gentle cycle tumble dry low Heat
Removable insert: the insert is machine washable, removable for easy maintenance, and cleaning. The insert features zero's graveyard motif
Durable: the pet House is a durable, flexible, and lightweight foam construction with zero's Name embroidered on it
Detachable top: the top is detachable and foldable for easy storage and maintenance and is made with designer embossed fabric
Bottom resists dirt & water: the matching bottom is made with tough nylon fabric that resists both dirt and water. Waterproof bottom prevents accidental messes from reaching your floor
We're delivering screams of joy with our spooktacular nightmare before Christmas zero pet house. Happy haunting with zero's pet house featuring a detachable top made with designer embossed fabric. This pet house has zero's name embroidered on it and zero's graveyard motif printed on the removable insert.


It provides your furry friend privacy and warmth. The pet house features a durable foam construction that is flexible, lightweight, and easy to manage.
The matching bottom is made with
Tough nylon fabric that
 resists both dirt and water. You will appreciate that the entire product is safe to machine wash and dry. All of our products are made with the utmost attention to quality.
Shipping
USA: FREE Shipping. Delivery within 10 days.
International: Insured Shipping. Delivery within 14 business days.