Description
Keep your skin young and healthy
Treat your skin with the goodness it deserves. Help your skin regenerate from aging and look healthy and younger!
Enjoy the benefits of having your own LED therapy right in your home. You can use this LED Mask Therapy anytime and use it at your convenience without having to go to any appointments.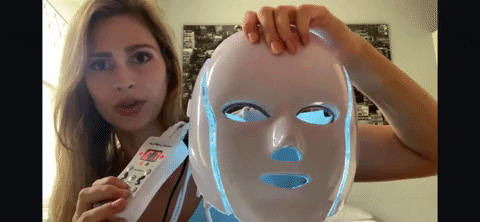 Light-emitting diode (LED) light therapy is growing in popularity in both aesthetician offices and at home. Using varying LED wavelengths, this skincare technique helps treat acne, decrease scarring, and promote anti-inflammatory effects. 

This is the perfect treatment for you if you have skin care concerns and haven't gotten the results you want from over-the-counter (OTC) skin products. LED therapy is also safe for all skin colors, and it doesn't cause any burning.

Light Function

1. Red light(630nm): Increase cell activity, speed up metabolism, and promote collagen formation.

2. Greenlight(520nm): Neutralization, balance, and stability, can reduce skin oil secretion.

3. Blue light(470nm): Bactericidal anti-inflammatory, inhibits inflammation, repair skin.

4. Yellow light(590nm): Improve cell oxygen exchange, replenish energy to skin cells.

5. Purple light: Dual frequency light, repairing acne.

6. Cyan light: Enhances cell energy and promotes metabolism.

7. White light: Improve fine lines and loose skin.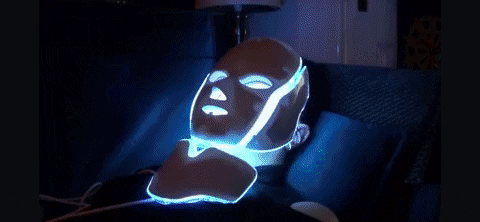 Product Specifications
Material: Plastic
Plug: EU/US/UK/AU
Machine Weight: 665g
Output Power: 20W (Max)
Color oF LED Light: 7 Color
Number Of LED Lights: 192
Voltage: 110V-240V, 60Hz/ 50Hz
Output Voltage: DC10V 2500mA
Package Includes
1 x Adapter
1 x Neck Mask
1 x LED Facial Mask
1 x Remote Control
8 x Microcurrent Contact
1 x Full English User Manual
Shipping
USA: FREE Shipping. Delivery within 10 days.
International: Insured Shipping. Delivery within 14 business days.