Wireless Hand Therapy Massager with Acupressure
Description
Your tired hands deserve a relaxing massage!
After a hard day's work, your hands need pampering. You should take care of your hands like how you take care of the other parts of your body.
Hand pain also indicates medical problems like Arthritis, Carpal Tunnel Syndrome, and general hand pain. But you don't have to live with this kind of pain every day. Here's the perfect solution to alleviate the pain.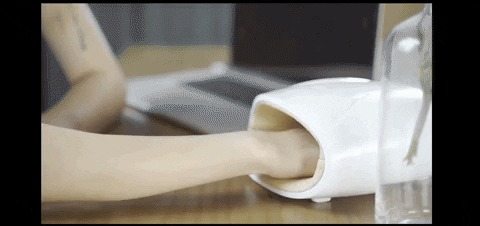 This massager gives instant relief to your aching hands. It also helps promote blood circulation and ease sore muscles, numbness, and cold fingers and palm.

It also adopts built-in air pressure inflates and deflates, and uses two pressure modes and three levels of intensity.
You can bring this massager anywhere and have a relaxing massage anytime. This compression massager is best for tight, sore, and cramped hands.

This is also useful to have youthful and soft skin on your hand. You can apply a moisturizer or a hand cream and put it on a disposable. Then slide your hands in the massager so that your hands will absorb the cream faster.

Product Specifications
Intuitive display of keys : 3 gear strength / 2 groups of gesture massage / 2 hot choice
Batteries: 1 Lithium-ion battery required. (included) Powered by USB cable
Shipping
USA: FREE Shipping. Delivery within 10 days.
International: Insured Shipping. Delivery within 14 business days.